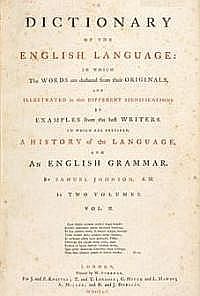 A Dictionary defines new and unfamiliar words in terms of old and familiar ones.
In order to use a Dictionary I must enter with a 'Minimum-Knowledge of English'.
And this 'Minimum-Knowledge of English' must itself be sourced outside the Dictionary.
I must already possess this 'Minimum-Knowledge of English' before using a Dictionary and without it the Dictionary is of no use to me.
---
I search Webster's for the meaning of the word 'Metropolis'.
Metropolis: 'The main city, often the capital, of a country, state or region'. But what is a City?
City: 'A large important town'. But what is a Town?
Town: 'A place enclosed or fenced in; a collection of houses enclosed within walls; a hamlet; a village'. But what is a Village?
Village: 'A group of houses in the country, smaller than a town or city and larger than a hamlet'.
We have come full circle. This is all a Dictionary is meant to do. We can go no further. A Hamlet is defined in terms of 'Village'; a Village in terms of 'Hamlet'.
In order to use the Dictionary, I must enter with knowledge of what is a 'Hamlet' or a 'Village'. If I do not, I will find myself in a permanent loop within the Dictionary with no exit.
If I am alert to that, I close the Dictionary and find a 'Hamlet', take a trip and visit a 'Village'.
If I am not alert to it, I keep turning the pages and look for new definitions without ever leaving the Dictionary. And enter the boudoir of the Loop.
---
[Literati say a Dictionary spirals down in terms of 'simpler' words. The simplest words in Language are 'is' and 'not' and men have been struggling to define them for 2 millennia. So watch out.]